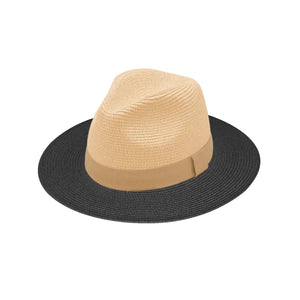 Product Info
Reviews
Size Chart
This casual colour-block Fedora is designed using a lightweight natural fibre material and suits both men and women. The Tyler Fedora will keep you cool in style this season while you enjoy the outdoors.
UNISEX - Suits both Men & Women

UPF50+ Certified UV Protection. CANSA SunSmart Choice™ Endorsement

Crown height: 11 cm

Brim size: 7,5 cm

100% Natural Fibre

Spot clean. Handle with care

Basic drawstring size adjustment

ERV2115
How To Measure Your Head: You can measure your head size with a soft tape measure or piece of ribbon/string. Place the ribbon, string or tape around your head just above your ears, about mid-forehead. You should hold it firmly, but not too tight! It should feel as comfortable as you would want it to feel when you wear the hat. Mark the soft tape measure with a pencil, and you'll see which size is best for you. Or tie a little knot in the ribbon or string and measure the length in centimeters.
Basic Size Guidelines: Most women's hats are a 58 cm size. Some women however prefer a 61 cm size, depending on head size or hair style. Men's hats are generally a 61 cm size, however some men wear a 58 cm size, it all depends on your preference and how the hat feels on your head, some like a loose fit some prefer a tighter fit. If your measurement falls between a size, round it up to the next largest size so that you are guaranteed of a comfortable fit that you can just adjust if you need to.